Dear Stitchers,
A whole year has now passed since the beginning of our Happy Christmas Mystery SAL, and those who participated have created, step by step, month by month, the pattern that is now complete and officially released today.
Each of the twelve small patterns that make up the complete design is an image of the quiet and simple joy of Christmas, the most magical moment of the year.
I hope you like it and that it can still keep you company, especially for those who have not followed the Mystery SAL and want to start it right now.
Soon I will start working on new patterns and I promise they will be full of magic!
I hug you and… see you soon!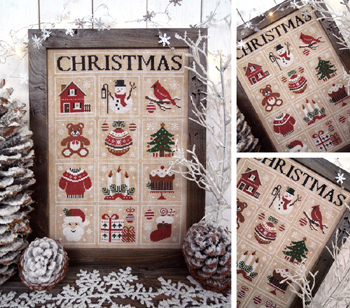 Care Ricamine,
è ormai trascorso un anno pieno dall'inizio del nostro Happy Christmas Mystery SAL, e chi ha partecipato ha creato, passo dopo passo, mese per mese, lo schema che adesso è completo e che viene oggi rilasciato ufficialmente.
Ognuno dei dodici piccoli schemi che compongono il disegno nel suo insieme, è un'immagine della gioia serena e semplice del Natale, il momento più magico dell'anno.
Spero che vi piaccia e che possa tenervi ancora tanta compagnia, soprattutto a chi non ha seguito il Mystery SAL e vuole iniziarlo proprio adesso. A breve inizierò a lavorare agli schemi nuovi e prometto che saranno carichi di magia!
Vi abbraccio e… a presto!
***
You can find the new pattern in my Etsy Shop:
or you can order them writing me an email:
Potete trovare il nuovo schema nel mio negozio Etsy:
oppure potete ordinarli scrivendomi una mail: